About
Fresh from their own experience as bride and groom they knew how desperately the Maine rental market was lacking with its poor rental service and outdated equipment. The newlywed couple set out to change the way Maine did event rentals and introduce the production side of things.
By having a few simple standards such as keeping clean equipment and following the latest wedding fashion trends, Affordable Events is able to provide Maine's couples with the best quality and service possible.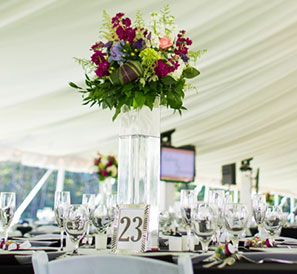 As well as providing the best in rentals it's important to remember design. Whether you're under our tents or inside one of our preferred venues, we can provide you with the rentals and a unique floor plan that fits your needs. Unlike other Maine companies the professional staff at Affordable Events executes the complete set up and removal of the floor plan for each event.  We stay committed to bringing new products and trends to Maine while keeping all the traditional wedding styles couples would expect to find from a rental company.
Affordable Events' approaches each event season with the anticipation of creating new and lasting relationships with venues and other wedding professionals throughout the state, as well as making memories with each couple who chooses to let us be involved in the planning and production of their wedding day.
What' New
With the outstanding support of wedding professionals in the State of Maine Affordable Events   is expanding into a brand new facility in the town of Oxford Maine. Opening in the fall/winter 2016, the new facility will have an extensive showroom featuring today's wedding trends and fashions boasting over one thousand different specialty linen designs. The new facility will offer a conference and design room and will be more centrally located to all of Western and Central Maine.